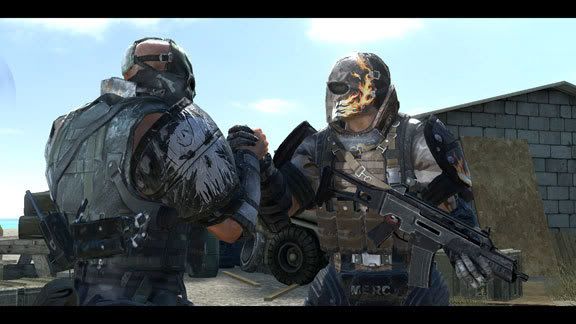 Over the last few weeks, I've been in the middle of the spring gaming glut. I know, there is no spring gaming glut - except there is. Games that got overlooked during or delayed during the holidays are hitting shelves (or hitting shelves cheap), and I've got more on my plate than I have time. Two games that I've been playing a little of recently are Burnout: Paradise and Army of Two.
Now, the notion that co-op games are awesome is so old that it's hardly worth mentioning. But between Rock Band, Army of Two, and Burnout: Paradise, what's clear to me is that games that involve social cooperation/collaboration are absolutely here to stay - not as a fad, or a feature, but as an entire genre of gaming. It used to be single player or two-player, back in the day of games like Contra and Ikari Warriors. Then, for a good long while it became single player or competitive multiplayer, and the cooperative, social nature of games was shelved for a while. Now that it's back, I can't imagine letting it fall by the wayside again.
There's something deeply satisfying about saving a fallen bandmember in Rock Band, or hitting that last note and getting the bonus. There's a lot of communication involved in synchronizing barrel rolls in Burnout, or trading aggro in Army of Two. Yes, you get it in team-based competition, but the shift towards one-on-one cooperation creates a much more personal dynamic that's been missing in games for a while.
Any other co-op experiences like this I've been missing?
Army of Two: B/80 (not very far in, very limited multiplayer experience)
Burnout: Paradise: B/95
Rock Band: A/100